Nashville has continued to grow over the years and is a prime destination for its music scene, cuisine, and ideal moderate vacation temperatures. Tourism has led to extreme growth for the city of Nashville and has made it one of the country's fastest-growing cities. The Music City is a beautiful place to visit, but many tourists may want to avoid the common pitfalls of other visitors to the city, whether this means the food you order or the places you visit. Here's what not to do in Nashville.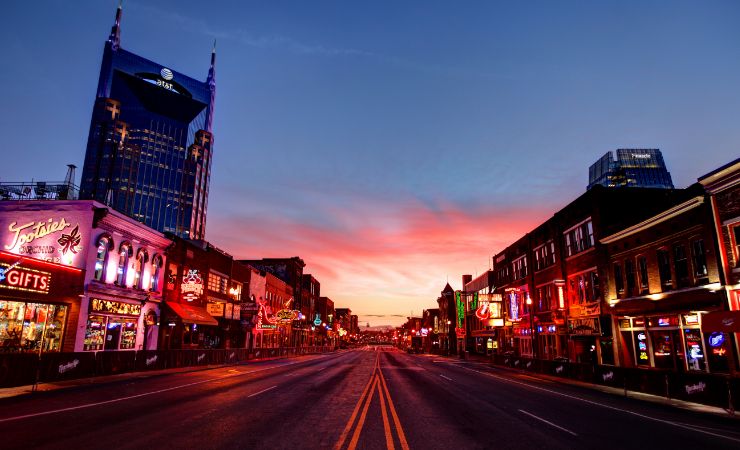 Miss Out on the Great Food
There are many incredible food venues in Nashville beyond Broadway. Look for local favorites, and watch for lines of customers outside. Many restaurants have outside lines that move quickly, and long lines may indicate that the food will be worth it. Talking with people from the area can give you a great idea of what joints have the best options. Some commonly recommended places include Arnold's Five Points Pizza, Proper Saké, Josephine, Fat Bottom Brewery, Five Daughters Bakery, Hattie B's, or Prince's Hot Chicken.
Skip Out on Nashville's Walkability
There are plenty of areas outside of Broadway and downtown that have lovely walkable areas. However, the city's infrastructure has to catch up to its growth, so a car is likely necessary to get to those areas, and Nashville traffic can be rough. Don't stay stuck in your vehicle or ride-share, and be sure to explore different parts of Nashville.
Assume You Need a Cowboy Hat and Boots
Nashville is a more diverse city than many tourists assume. Visitors to the area often show up with an entire Western outfit and Stetson, only to find that the locals aren't wearing the same. Cowboy outfits are likely to point you out as a tourist, and cowboy boots that haven't been adequately broken in will be painful after a few hours of walking around the city. If you want to wear cowboy boots in Nashville, don't let anyone ruin your fun, but be smart about it.
Only Visiting Broadway
Though there are some beautiful places to stop by on Broadway, Nashville has so much art, history, and cuisine around, and even a sports scene. All this can be found if you venture outside of Broadway. The downtown area will likely give you the country feel you expect from Nashville. It's a great place to check out the nightlife, but there is much more to the city.
Overreact to Celebrities
It's a point of pride for Nashville natives not to disturb celebrities in the city. Nashville is home to celebrities such as Chris Stapleton, Dolly Parton, Miley Cyrus, Nicole Kidman, Brad Paisley, Steven Tyler, Reese Witherspoon, Blake Shelton, and many more. Celebrities choose Nashville for a reason, and the locals leaving them alone may be one of them. When in Nashville, be polite.
Fail to Stay Safe
Though everyone wants to have a good time, there are several things you should do to stay safe and vigilant in Nashville. From basic safety such as being careful around traffic while downtown to keeping yourself safe from crime, you want to be sure you are aware of your surroundings. Always lock your car, and know where you're going and how you're getting there and back before you leave. Stick with your group, have fun, and look out for each other. Be sure you know local laws so you don't have to deal with legal charges.
FAQs
Q: What should you avoid in Nashville?
A: Most tourist-walkable areas are full of people and are very safe. However, Nashville's violent crime rate is above the national average, so it's essential to learn the safe areas of the city and which locations you should avoid.
Though you may have heard stories about East Nashville, it's been a thriving and growing place in the last decade and has become much safer. Neighborhoods such as Talbot's Corner, Glencliff, Heron Walk, and Bordeaux are areas to stay away from due to their high rates of violent crimes and property crimes. There are no tourist destinations in these areas.
Q: How can you avoid looking like a tourist in Nashville?
A: Nashville has a complex and diverse culture, and if you think you have to fit in by acting southern or country, you will likely stick out. Many people who live in Nashville or are native to Tennessee will recommend that you leave your cowboy boots and hat at home. Though there's nothing wrong with the cowboy getup, it will likely mark you immediately as a tourist because it's not the daily outfit of most Nashville natives.
Q: What do you need to know before going to Nashville?
A: Downtown Nashville is a great place to walk around and has some of the most beautiful music museums in America. It's also a very dog-friendly city, with dog-friendly hotels and several dog parks.
When looking for music entertainment around Nashville, it's important to realize that the music scene is much more diverse than country music. You can see performances from local musicians of many genres to get the true taste of Nashville culture.
Q: When should we avoid Nashville?
A: If you're hoping to avoid the crowds, you should not plan a trip to Nashville in June, July, and August. Every establishment is full from Memorial Day to Labor Day, the temperatures are high, and the air is muggy.
In the spring and fall, humidity is lower, days are warm rather than hot, and tourism is lower. In the spring, however, the city can be very wet and rainy.
If you don't want to see any crowds, winter is your best bet as long as you avoid the holiday season. However, Nashville's winter can surprise people with freezing temperatures.
What To Do When You're Facing Charges as a Nashville Tourist
Sometimes, partying can go too far when you're visiting an area, and awful things can happen. If you find yourself facing criminal offense charges while you're visiting Nashville, it's essential that you find an attorney who can protect your rights and help you stay informed about your situation. McNally Law has the experience necessary to advocate for you and specializes in tourist criminal defense. This isn't something you should face alone. Contact our team today.